"The sun was warm but the wind was chill; you know how it is with an April day when the sun is out and the wind is still, you're one month on in the middle of May. But if you so much as dare to speak, a cloud comes over the sunlit arch, a wind comes off a frozen peak, and you're two months back in the middle of March.."*
Spring is here with its yoyo weather; in and out sunshine, torrential downpours and the occasional snow flurry. And with it comes mud season where feet can pop out of boots while walking along, as mud sucks the boots down. The area where the turkeys search for seeds beneath the bird feeders is especially clawed-up. Those large tricorn feet can really cultivate soil! I should harness them to rototill the gardens! Can't you just picture a harnessed team of turkeys?
The changeable weather does a number on bones and joints for those of us who have (to quote my doctor) enjoyed a lot of years. But even with aches and pains that blossom when another front comes through, we have learned that it is exceedingly good to be alive. It is a fine feeling to be open to new things, as spring comes dancing along with its slow two-step. That's the dance pattern; two steps forward and one step back!
Easter is less than two weeks away which means it is time to be getting a palm bud for Palm Sunday and thinking of flowers to add color and fragrance at church. Easter is probably my favorite special day. The flowers, the music and the service itself are all spirit-lifting. It's true that occasionally the weather doesn't cooperate; I remember one snowy Easter when pastels and straw hats seemed inappropriate in those cold breezes, and the egg hunt had to be inside. But these little challenges have never ruined that hard-to-describe feeling of new life. As a special touch to the holiday, we usually have family with us. For a little fun, the Vermont Country Store catalog is offering Easter baskets with chocolate bunny ears — just the ears — the first thing most kids (and some grown-ups I know) eat. Last year (I think it was), we had "Easter crackers" —- those paper tubes that when pulled apart, have little gifts inside. And have you ever expanded a "peep" in the microwave? Marshmallows do strange things when zapped! Easter is a very good day for all of our senses.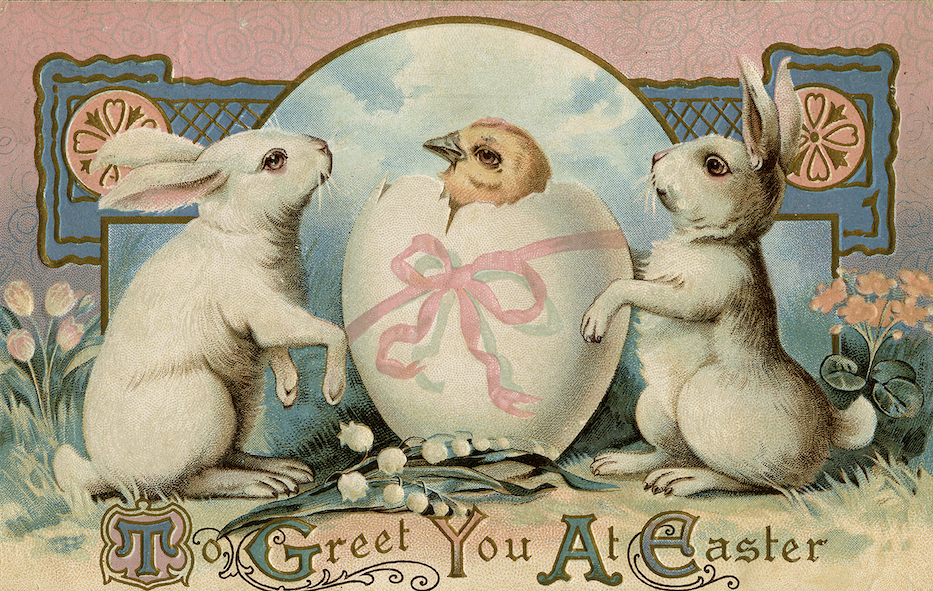 Whether or not the Easter story is part of your theology, it is certainly the most potent example of agape love —- the selfless kind of love that covers all beings regardless of who the beings are. It is the always-awesome story of laying down one's life for another —- in this case, a whole bunch of others — humanity! It is love with no strings attached. There has been considerable talk over the past few years, and plenty of in-your-face examples of a world-wide lack of love and compassion. Narcissism seems to be a spreading plague from the upper layers of government to the men and women on the street, where people think only of themselves and what they want. Taking care of one's self — a good and wise thing — has morphed into "Me First and you get out of my way!" — a harmful and destructive thing. All of us have moments of self-centeredness, but when it becomes the norm, not only are we individually on hazardous turf, but our whole world is in danger.
Gladys Taber, a writer from some years ago, said it well. "Love of God gives sustenance to almost all human creatures, although the meaning of God varies……………..The more one loves, the more the capacity to love develops. For loving involves reaching outside oneself, sharing with others, joining in someone's grief as well as joy…….Hate cripples the power of love much as beetles devour the heart of opening roses. Any old hate will do it — the hate of other races, other countries, other ways of living, or the next-door neighbors. Bigotry is a strong form of it. Oddly enough, any kind of hate destroys the hater more than the object. It is more corroding than any chemical.** We humans have a lot to learn and we don't seem to be progressing as well as we might.
Even knowing these negatives, and agonizing over the depth of evil in the world, we must also keep ourselves aware of the positives. We are often astounded by sudden magnificence. The beauty of the natural world (a sunset, the Borealis)—– those masterpieces that artists create (Sculptures, painting, the Hallelujah Chorus) —— the many efforts to help a neighbor —- are often stunning as well as reassuring. Mr. Rogers' mother told him that when he was discouraged by evil, to seek out the helpers. There are some seemingly tireless helpers among us. This excruciating time of seeing the ravages of war every evening on the news, also brings us a clear picture of those who move forward to help, putting their own lives at risk. Recognizing this brings us back to the reality that we humans are a mixed race of beings, some wonderful and some who are abysmal — and each of us is probably a little mix of both.
Speaking of a demonic and angelic mix, I present our cats! They began as feral cats that came by to scarf food wherever they could — too often their entrée was birds. I think they also enjoyed harassing our dog, Freckles. But now they are fairly contented and very well-fed kitties that can't, in all honesty, be called feral. They sit on the outside window sill, watching TV through the window. They still don't like being picked up, but they do like being petted and conversed with. And the birds —well, the cats do continue to sit beneath the feeders and —- occasionally —- grab one; that behavior seems to be in the feline DNA. But they now know they aren't supposed to. I see the feeders from my computer, so when the cats linger longingly beneath a feeder, I open the window and scold them. They simply glance over their shoulders and stalk away — as in, "I had no intention of catching anything; was just window-shopping!" Of course, it is possible too, that the birds have grown more wary. On spring-like days, our cats are restless and playful — pouncing on blown leaves, balancing on the fence pickets, and racing up and down the lawn. And at night they now prowl! "You may call, you may call, but the little black cats won't hear you. The little black cats are maddened by the bright green light of the moon. They are whirling and running and hiding, they are wild who once were so confiding, they are crazed when the moon is riding….."***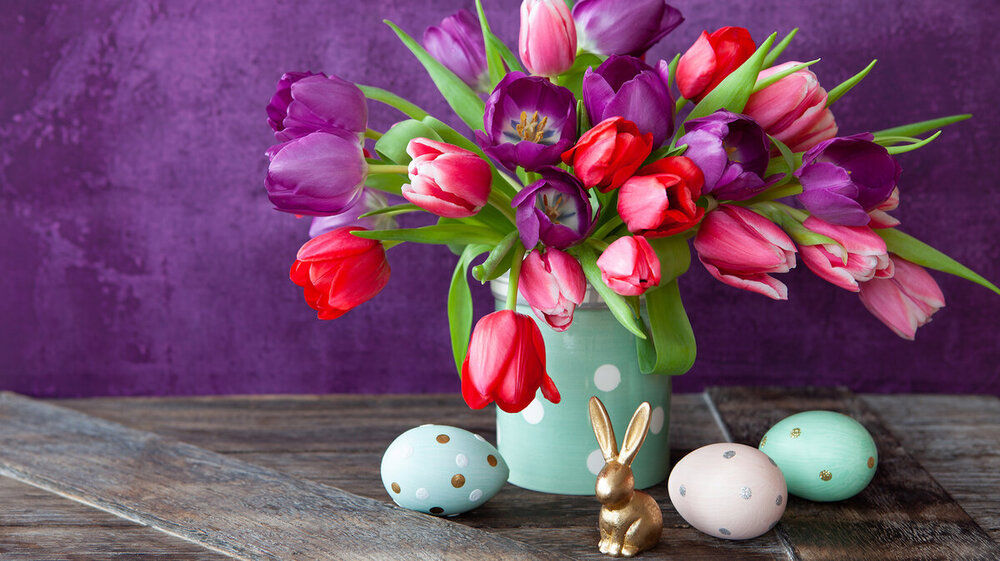 As spring advances and flowers open up, I always feel a spurt of new energy and optimism. All those waiting projects might actually be accomplished! I am blessed with some very good holiday memories too —- I'm recalling frilly pink dresses, bonnets with black velvet ribbons and daisies, Easter baskets and colored eggs. My mother's special Easter cake was an orange sponge cake with a marvelous pudding and mandarin orange filling. The week before Easter (Holy Week), I along with many of my teenage friends, attended a 7:30 church service after which we walked to school. Those were informal, inspiring beginnings for the day —-and for someone who always rode a bus, walking with friends was a treat. Take time to pull out your Easter/spring memories and to enjoy a glance backward. The world is never at a loss for sadness and difficulties, so remembering and making our times as beautiful as possible is good for us and those around us.
Spring and Easter are both times of wondrous things———magnificent things, spiritually, in nature and in people. In our community, we've put out jars for donations for the Ukraine — in every possible venue. It is true that we have, in the past, been less concerned for other parts of the world when they might have needed us just as much, but doing this supportive thing now, is good — both for those we try to help and for our own growth. People in Poland and other neighboring countries have opened their homes to refugees. This is magnificence amid evil. The world is, indeed, full of peril and in it there are many dark place. But still there is much that is fair. And though, in all lands, love mingled with grief, it still grows, perhaps the greater." JRR Tolkien**** I really believe that for every evil deed, there are many good and wonderful things happening at the same time.
Meanwhile —- the sun is shining and the flowers are blooming. I can get out and prune the roses and clean up the shells of pumpkins and gourds that are left from winter deer browsing. The day lilies are showing green tips and the buds on the lilacs are swelling. Happy Easter and Happy Spring!
*****************************************
Carol writes from her home in Spencer. She may be reached at: carol42wilde@htva.net.
*From "Two Tramps IN Mud Time" by Robert Frost. American poet who was known especially for his depictions of rural life. 1874-1963
**From Conversations with Amber by Gladys Taber — American writer, columnist. 1899-1980.
***From "The Bad Kittens" by Elizabeth Coatsworth —American poet and novelist for both children and adults. Married to Henry Beston, also a well-known American writer. 1893-1986.
****JRR Tolkien —-English writer, poet, philologist and academic. 1892-1973. His book "The Hobbit" and his Middle Earth trilogy are well-known examples of good vs. evil.